Quality microphones for conference rooms are not а straightforward decision. Different conference rooms require different microphone solutions. Picking the right microphone depends on the room space and seating arrangement. 
We will define the main microphone types, their features and use cases. Anyone considering a microphone purchase can benefit from this guide. 
What to consider before purchasing a microphone
Choose according to the room style and furnishing
The conference room audio system is highly dependent on the furniture and room space. So it should be planned together with the rest of the room equipment and not after that. 
 For a huddle room expensive sound equipment is not necessary. Wireless setup or individual gooseneck mics can still be used but a simpler setup would work just fine. Since everyone is gathered around one table a single boundary or ceiling mic will suffice. 
On a large conference table a single microphone would make the participants in the far end sound like a distant echo. Each participant should have an individual gooseneck microphone in such occasions.  A special unit with volume and mute controls can be placed in front of the chairman of the meeting. This main control unit can recognize speakers or cut off attendees whose time has expired.
For a banquet style or lecture rooms on-stage microphones are necessary. Lapel, boundary or ceiling mics are used in order to pick up the sounds in particular area of the room.
Conference microphone specifics 
Beyond the room layout, every company has some specific audio requirements.
Some setups allow users to mute their individual mics. Others can have one single mic and muting would mean cutting out everyone. 
Wireless and ceiling microphones give the participants the freedom to move around. When rearrangement of furniture is necessary for the conference meeting such microphones are recommended.
Ceiling microphone for larger rooms capture sound reflections. We highly recommend installing wall panels improving the acoustics.
Cable microphones are cheaper than wireless mics with the same sound quality. They are not an aesthetic solution, as there are too many cables to comply with. 
Table-mounted microphones might require drilling holes in the table for a proper installation. 
Conferencing microphone types
Picking the right microphone is the key to receiving high-quality sound. 
High-quality sound during meetings will increase intelligibility and will make them more relaxed.
You can choose between the different types of microphones described in more detail below.
Individual microphones: 
Individual microphones are the easiest way to get better signal and great audio quality. Their main advantage is they are placed as close to the source of the sound as possible. The closer the microphone, the better the signal. The further the microphone, the more noise it will pick up. 
Individual microphones are also suitable for adding some useful features to the sound equipment like voting or translation services.
Microphones used individually can be grouped into three types: the gooseneck, the handheld and the wearable microphone.
Gooseneck microphones
The gooseneck microphone catches only the speaker's voice and blocks out the background noise. To catch a clear signal, the speaker needs to remain close to the microphone. 
great speach intelligibility due to very low impedance and built-in cardioid capsule
catches even the quiet and very sensitive sounds due to wide frequency range
the integrated light ring shows the speaker that is allowed to take the floor
compatible with the wireless table stand MAT 153-S B
the microphone has one flexible section
MAIN SPECIFICATIONS
prepolarized condenser microphone with one flexible section
reliable built-in cardioid capsule Sennheiser KE10
microphone length 16 inches (40 cm)
integrated light ring indicates the spokesman allowed  to speak
XLR 5M connector
compatible with table stand MAT-153-S B
RF shielding against intermodulation from wireless devices
very low impedance < 100 ohms
frequency response 50 Hz – 20 kHz
phantom power
cardiod pattern catches only the speaker's voice
designed with dual flexible sections
available in 12" and 18" neck length
superior design and solid-built quality
included flange mount and available snap-fit windscreens
XLR connector for installation
MAIN SPECIFICATIONS
cardioid condenser microphone with two flexible sections
microphone neck available in 12" and 18" inches length
XLR connector
compatible with desk base Shure CVD-B
Commshield® technology guards against RF interference
gh resistance to intense nearby radio signals
low impedance 180 ohms
frequency response 60 Hz – 16 kHz
Every participant in the meeting needs personal microphone, so it is possible that the microphones (and their cables) take up considerable space on the table. There are wireless options as well. Still wireless microphones have a limited time of use, and need recharging or batteries change. 
These microphones are suitable for meetings where each speaker's voice needs to be heard in full detail. 
Gooseneck mics are also used for public events like press conferences where the speakers are talking in a sitting position in front of an audience, and hearing his speech precisely is essential.
Handheld and wearable microphones
The handheld and wearable microphones are suitable for presentations with limited number of participants in front of a large audience. They usually catch clear signal as they are located close to the source of the sound and are using a directional microphone pattern. 
The handheld mic is not the right choice for video conferencing. In conference meetings attendees often need to use their hands to write something or use a laptop. 
The lapel microphone lets the speaker use both of his hands. This allows him to behave in a more natural manner. Placement of the lapel microphone has to be carefully chosen. If it is too close to the source, the sound can be distorted. If it is placed too far, the sound level might be too low. 
Moving with a lapel mic can cause some audio issues. The speaker turning his head left or right will lead to a slight variation of the output level. Garments can also rub the microphone producing unpleasant static.
The earworn microphone lacks  the above problems. The speakers hands remain free. Turning around is no longer an issue as the microphone remains on the same distance, following the source.
Shared microphones: 
Shared mics are suitable for meetings where a part or all of the delegates share a microphone. 
Shared microphones catch sound from multiple sources. This limits the control of sound per person.
At the same time, these microphones have the advantage of taking smaller space. More space remains available for laptops or other types of equipment. They are easier to install and usually a cheaper option compared to equipping the room with a gooseneck microphone per attendee.
Higher noise levels is the main drawback of these microphones. It is caused by a larger distance between the mic and the source of sound. A combination of several microphones for one room is used to overcome these obstacles.
Boundary microphones
Boundary mics can be directional(cardioid) or omnidirectional. They can be installed on the table or on the floor of a presentation stage. Some mics are embedded into the table concealing the cabling. 
Directional (cardioid) mics catch sounds from sources directly in front of them. Their advantage lies in reducing background noises from other directions. These microphones are usually shared between two people.
Omnidirectional mics pick up sound in the 360-degree radius direction. So they have the ability to capture the entire conversation in a smaller room.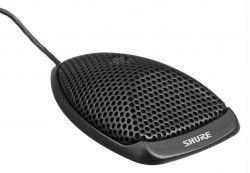 easy to install and to move
very good intelligibility
can choose among different cartridges:
cardioid, super cardioid, omnidirectional
low profile design, unobtrusive appearance
increased endurance to noise over long cable runs
MAIN SPECIFICATIONS
low impedance 150 ohms
frequency response –  50 – 17000 Hz
XLR output connector
replaceable cartridges: omnidirectional R183B, supercardioid R184B
cardioid – R185B
easy to use – plug-and-play
can be used anywhere – quickly turns any type of room into a conference room
allows multiple people talking – 180-degree coverage; 25-foot pickup radius
compact and small design
uses cables
not suitable for large conference rooms
MAIN SPECIFICATIONS
compatible with USB 1.1 and 2.0
25-foot pickup range, 3 capsule boundary design with 180-degree coverage,
has built-in 3.5mm audio jack – can connect a speaker or headphones directly to the laptop
frequency response 40-16000Hz
powered only through the USB, no power cable needed
Conference rooms usually needs a smaller number of boundary mics compared to other types of microphone setup.
Boundary mics require relatively low interaction between the speaker and microphone. They can be set once and do not require further support. Meetings can be started immediately.
The attendees' freedom of movement comes at the cost of lower sound quality. The level of the sound and background noise changes, if the speaker is too close or too far from the microphone. Obstacles in between the speaker and the mic can also lead to reduction of signal or undesirable noises.
Speakerphones
The speakerphone is essentially a phone with an integrated omnidirectional microphone. Speakerphones are suitable for voice over IP meetings. Their main advantage is their portability and adaptability to different room spaces so everyone can be properly heard. Speakerphones usually have phone functions limited to receiving and ending calls. They are usually connected via Bluetooth or USB to another device.
excellent sound quality of the microphone and the speaker
for conference meetings up to 6 people in the room
a second Jabra speakerphone can be connected for а meeting with more participants
omnidirectional pick-up pattern
up to 15 hours of wireless talk time
compact and stylish design
MAIN SPECIFICATIONS
omnidirectional microphone
Bluetooth 4.2 and USB 2.0 connectivity
wireless range up to 100ft / 30m
microphone frequency range – 150 Hz to 7 kHz
talk time – up to 15 hours, charging time – 3 hours
best quality in this price range
for conference meetings up to 4 people in the room
omnidirectional pick-up pattern
up to 15 hours of wireless talk time  using Bluetooth, regardless of the location
compact and stylish design
uses cables
not suitable for large conference rooms
MAIN SPECIFICATIONS
omnidirectional microphone
connectivity: USB 2.0 and Bluetooth 3.0 (up to 8 paired devices)
wireless Bluetooth range 100ft / 30m
microphone frequency range – 150Hz to 6.5kHz
talk time up to 15 hours, charging time approximately 2 hours
echo cancellation with 360 degree/1 meter coverage
Speakerphones with a single microphone are suitable for small meetings up to 4-5 participants.
Conference phones are another option for telephone conference meetings. They possess the standard phone functionalities and a lot of additional options, which can make them an expensive choice.
Ceiling microphones
Ceiling microphones are omnidirectional or cardioid and capture all sounds in the room. They are mounted fixed on the ceiling or hanging to reduce the distance between the speaker and the microphone. For medium and large conference rooms two or more microphones are necessary. 
The cardioid microphones can be pointed in a particular direction to reduce the noise coming from the rest of the room space. While omnidirectional ceiling microphones catch the sound in all directions.
Cardioid pattern is also quite suitable for hanging microphones pointed directly downwards. In this case, they catch sounds right below them, usually with 120-degree range.
which ceiling microphones do we recommend
excellent sound reproduction, high sensitivity and wide frequency range
can choose among different pickup cartridges to provide optimal polar pattern
the microphone has a gooseneck that can be pointed in particular direction
compact unobtrusive design
for large rooms or stages at least two microphones are necessary
MAIN SPECIFICATIONS
can be cardioid, supercardioid or omnidirectional microphone
frequency reseponse – 50 to 17 000 Hz
impedance 150 ohms
attached 101mm(4inches) gooseneck
excellent price-quality ratio
very good sound reproduction, wide frequency response
steel hanger positions microphone over the preferred part of the room or stage
microphone includes a 7.6 m (25′) permanently attached cable with an XLRM connector
compact unobtrusive design
for large rooms or stages at least two microphones are necessary
MAIN SPECIFICATIONS
fixed-charge back plate, permanently polarized microphone
cardioid 120-degree polar pattern
microphone frequency range – 70-16 000 Hz
impedance 100 ohms
includes a 7.6 m (25′) permanently attached miniature
cable with an XLR connector
Check our dedicated guide to  the best ceiling microphones for conference rooms.
Ceiling microphones are a preferred choice when the good look of the room is  a priority.
Ceiling microphones are quite easy to use as the talker does not interact directly with the microphone. They are suitable when the speaker moves around the room or uses monitor to make his presentation. These microphones are an obligatory tool for meetings that require plans, maps or any documents to be spread on the table. 
They are also appropriate for stage presentations when the audience does not take part in the performance. In such cases, cardioid microphones are pointed at the stage so that noise coming from the rest of the room cannot be heard.
These mics usually catch the voice of at least two participants. So sometimes they are preferred as a low-budget solution, instead of buying equipment of twice or three times more gooseneck mics. Keep in mind, ceiling microphones at lower price might not have the desired sound quality, as ceiling microphones usually catch ambient sounds like whispering and sound reflections in the room.
The ceiling array microphones use innovative technologies to handle with this drawback. The beamforming array microphones of Sennheiser, Shure and ClearOne, have quite good audio quality, though at a higher price.
Another way to make sound quality better is to improve the acoustics in the room. This is achieved by mounting soundproof panels on the walls, usually decorated in an artistic style. Any carpets or textiles that dampen sounds are suitable in such situations. 
A ceiling microphone is not recommended if the conference room has high ceilings, glass walls or wooden floor. 
Additional conferencing microphone features: 
USB connectivity and size of the microphone
Mics and devices with USB connectivity can be directly plugged into a computer. They are particularly useful for companies with ByoD approach.
The size of the microphone is also an important feature in case the mic needs to be portable.
Wireless vs wired microphones
 The wireless microphone uses radio-frequency waves to transmit sound signals.
The wired microphone relies on a cable to transmit the sound signal.
 Wireless microphones
The word that best describes wireless microphones is flexibility. 
They are quite suitable for rooms where rearrangement of furniture is often necessary. The speaker is not limited to sitting on the table. Attendees can make their presentation without having to comply with extra cables around them. 
Sound quality is not an issue with them as the lack of cable lets them be fixed closer to the speaker. 
Battery life and charging time are the two main concerns when picking a wireless microphone. The batteries should last longer than your meetings and charging should not take longer than the time between two conference calls.
Keeping the microphones charged is an obligation that someone needs to attend to. Some models have the option to be plugged into a wall socket, which is quite useful for several consecutive meetings. 
Wired microphones
Wired microphones lack all the disadvantages of the wireless microphone. They don't have to be charged to work. There is no interference between the different microphones.  
Cabling is their main disadvantage and aesthetics is their downfall. 
They are a reliable and a cheaper solution than wireless microphones with the same sound quality.
What is microphone directionality?
Microphone directionality is a feature of every microphone. Directionality determines the microphones general pick-up pattern of capturing the surrounding sounds. There are two main types of mics according to their directionality – directional and omnidirectional. 
Microphone directionality is an important indicator of how well the sound signal is "isolated" from ambient noises. Choosing a microphone with the right directionality depends on the roomspace and furniture arrangement. 
Directional microphones
Directional microphones capture sound from its front side. 
The cardioid microphone is a version of the directional microphone which is largely used in close-up sound capturing (for instance gooseneck and handheld mics).
Directional mics capture the sound in a particular area. Such mics usually cover an area of one or two seats in front of them. This greatly reduces the undesired background noises from other directions. Fine-tuning is not an issue due to the restricted covered area. Speech sounds can be raised and the volume of unintended noises can be easily reduced.
Omnidirectional mics
Omnidirectional mics capture all sounds in its proximity. They pick up sound in full 360 degrees around them. That is why the omnidirectional microphone can catch two to three times more seats than one directional microphone. 
Smaller number of mics means a reduced cost of their total price.
But as the number of microphone gets reduced, the distance between the speaker and the mic increases and this leads to higher volume of ambient noises. It becomes harder for programmers to distinguish between the real signal and undesired noises. When the volume of the speaker is increased, the volume of surrounding noises also gets higher.
Sound system is an obligatory component of every conference meeting. Choosing a quality microphone is probably the most valuable part of conference equipment. It will undoubtedly contribute for having smooth and more successful meetings.